U bevindt zich hier: Home / About Mardimi
About Mardimi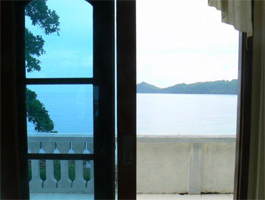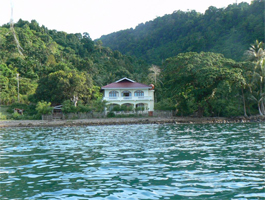 Our guesthouse is about 20 min drive from the main town, Sabang, and lies in the little hamlet Sirui. The questhouse has 6 rooms for rent. The rooms are spacious, cool and comfortable. Every room has a fan. And every room has its own balcony, own shower and toilet.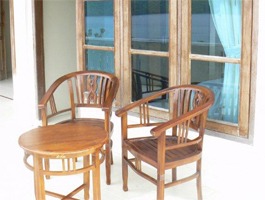 Each room has 2 (big) single beds and is well-furnished. Every room has a stunning view. In front and in rear of the house are big balconys where you can sit together with the other guests, or where you can eat, etc.
Around the hous is a private, fenced garden. Enough space to play volleyball, to sunbath, or to read a book in the shadow.

The house lies at the shore-line of a quiet bay of the Indian Ocean. You can snorkel in the beautiful sea. Snorkels are available for rent. After your swim you can take a shower in the shower in our garden.
The guesthouse owns a little boat, you can use for transportation to town or for a fishing/snorkling trip. See the page "what to do" at this website.