U bevindt zich hier: Home / What to do
What to do?
First of all: it's lovely to do just nothing in our guesthouse. But if you really want to do something, here are some suggestions.
Snorkling
Right in front of the house you can snorkel and explore the beautiful corals and fish. You just walk out the door and walk into the water. Snorkle gear is available at the guesthouse.
The town of Sabang
In the town of Sabang you can shop, drink coffee, buy an icecream and go on the internet. Also it is nice to see the colonial heritage around Sabang.
The Pria Laot Waterfall
Don't expect the Niagara Falls, but a nice little waterfall. After half an hour of clambering its nice to swim at this waterfall and litte pool. Mr. Suwito will take you there. It's not so far from the questhouse, a nice little outing.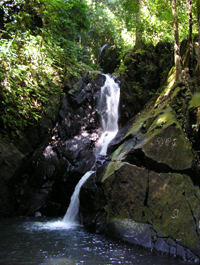 Gapang Beach
Here you can find diving schools and restaurants. The corals are already gone, but if you want to meet western people this is the place to be. By boat it is around 7 minutes, by car 20 minutes. Ask us and we will bring you there.
Island tour
The island is worthwhile touring arond. Deserted beaches, black or white, stunning views, the most westpoint of whole Indonesia. There is enough to see! Ask us and we will arrange for you an island tour. The tour will cost you the whole day.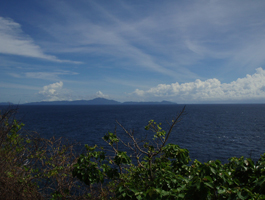 Boattrip
It's also rewarding to explore the area by boat. Enough nice places where you can snorkle, where the corals are untouched and you can swim between te colourfull tropical fish. Also we can find you places where you successfully fish your own fish (tuna). Do you want to use the boat? For a few hours or the whole day? Tell us and we will arrange it for you.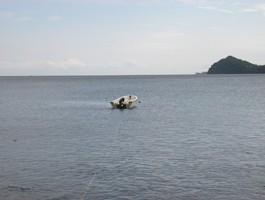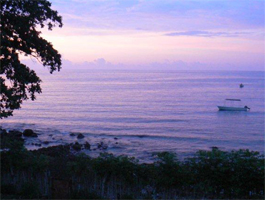 Diving
On Gapang Beach you canfind several divngschools.You can follow a PADI course of make a diving excursion. We will bring you there!